Dr. Paul-Elliott Cobbs, Conductor, Everett Symphony
File Name
KSER_MyStory_Paul-Elliott_Cobbs.mp3
Show
Date Aired
2010-09-03
Description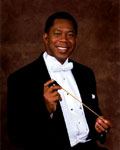 26 years ago Dr. Paul-Elliott Cobb walked into the offices of the Everett Symphony as conductor and music director.
That was many years ago but also a long way from growing up as an African-American kid in the tough neighborhoods of Detroit.
Dr. Cobbs shares the stories of his childhood and his triumphs as an internationally known conductor and scholar.
This interview made possible in part by assistance from the Snohomish County Community Heritage Program
7585 reads

634 downloads

126 plays