Larry Hanson, Publisher Emeritus, Daily Herald
File Name
KSER_MyStory_Larry_Hanson.mp3
Show
Date Aired
2010-08-06
Description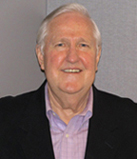 For almost half a century Larry Hanson was part of bringing the news to Snohomish County in the Herald Newspaper.
From his beginnings with the paper as a messenger and to his long tenure as President and Publisher, Larry shares his stories from the "good old days" of newspaper reporting.
This interview made possible in part by assistance from the Snohomish County Community Heritage Program.
7553 reads

498 downloads

113 plays