KSER Voice of the Community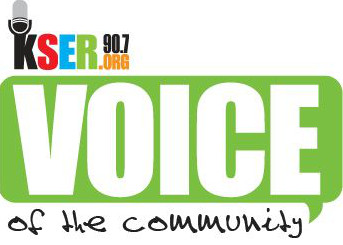 KSER Voice of the Community Award Celebration 2015
7 a.m. – 9 a.m. Wednesday, Oct. 20, 2015
Breakfast served at 7:30 a.m.
Tulalip Resort Casino – Orca Ballroom
10200 Quil Ceda Boulevard – Tulalip, WA – 98271
Located off Interstate 5, Exit 200
The annual KSER Voice of the Community Award recognizes local individuals, organizations and businesses that speak up to raise awareness about the arts, education, ideas and civic engagement.with positive results. Award recipients will be recognized at the KSER Voice of the Community Award Celebration.
AWARD GUIDELINES
• You can nominate an individual, organization or business that has positively affected residents within the 90.7 KSER and 89.9 KXIR coverage areas (primarily Snohomish and Island counties, north King County, and portions of Jefferson and Skagit counties).
• Positive results should have either a community or cultural impact in one or more of the following focus areas:
o Community impact: social, environmental, educational, civic engagement
o Cultural impact: arts and entertainment, enrichment, educational or building cultural awareness
• Not eligible:
o Past award recipients
o Self-nominations
o KSER employees or regular volunteers
APPLICATION DEADLINE
All applications must be received by 5 p.m., July 31, 2015.
TO SUBMIT A NOMINATION
• Online: Go to www.kser.org and select the Community tab, then Voice of the Community.
• By email: Complete this form and send it as an attachment via e-mail to Voice@kser.org.
• By mail: Complete this form and mail it to KSER Voice of the Community Award, 2623 Wetmore Ave., Everett, WA 98201.
WHAT YOU CAN EXPECT
We will acknowledge when we receive your application within five business days of it arriving in our mailbox, inbox or through an online submission. If you don't receive an acknowledgement, contact us at Voice@kser.org.
TIPS FOR A SUCCESSFUL APPLICATION
Please complete all questions and provide specific examples of how your nominee has made a cultural or community impact by speaking up and taking action. If you tell a complete story, we have a better understanding of the nominee. You may send additional documentation or include links to websites and online articles.