Health and Fitness with Cailean Johnson
caileanjohnson@trilogyfitness.net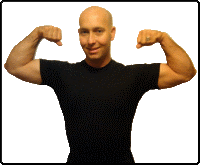 Born in San Jose, CA, I grew up playing every sport possible. At a young age I had a passion for athletics and fitness, playing on many soccer and baseball teams. When high school rolled around I knew my first true sporting love was baseball. During High School I played baseball for a nationally ranked team. In the early 90's, I attended the Air Force Reserve Officer Training Program. After Graduating in "92" I attended a local College.
I played college baseball and played in Amsterdam, the Netherlands, before returning to play baseball in the US. After my baseball career ended I was accepted into the Kinesiology program at Cal State University, East Bay (Formerly Hayward). After I graduated in "99" with a BS in Kinesiology I went into the education field and became a Physical Education Teacher.
In 2001, I entered the health and fitness world as a Personal Trainer at All American Fitness in Oklahoma City. Six months later I became the Assistant General/Fitness Manager. In 2002, I was given the opportunity to return to the West Coast to work as General Manager for Allstar Fitness, Seattle.
Two years later, in 2004, I returned to teaching Physical Education at Evergreen Academy in Bothell. I continued providing personal training services to my clientele outside of my teaching role as this fulfilled my passion to help people maintain a healthy lifestyle. This brings us to today.
Health and Fitness with Cailean Johnson's Audio Files


Health and Fitness with Cailean Johnson's Blog Posts

Subscribe to this blog
print '
'; ?>